***These reviews have also been posted on The Social Potato
As a cat person, this little chapter book appealed to me at a spiritual level. I saw that it was about a cat and a stunt cat at that and I got all grabby handsy because I NEEDED IT. Was this book as cute as it sounded? The answer to that is YES YES AND YES. *throws confetti in the air*

This is such a cutesy little book about a young cat that wants to be a movie star. The kitten runs away from home and travels across the country to follow his dreams and along the way he makes a bunch of friends.

This is the kind of book you'd want to read aloud to kids because it is so fun but also it has so many important messages about believing in oneself and learning to accept that people are not perfect. Not even your idol. People (I MEANT CATS) are not perfect and you should not expect them to be, but you should also remember to value your friendships and appreciate those around you.

THE END.

Jk.

ARE YOU KITTEN ME RIGHT MEOW?

(I am sorry, I think I am funny).

Mr.Puffball was the perfect cat to lead this show and I just want to shake his paws for the marvelous job he has done in portraying the typical struggle of a cat. He is a kind hearted kitten who is so lovable and he grows up over the course of the book as he becomes more comfortable within his fur.

Basically, if you love cats you should read this, if you love cute books you should read this, if YOU ARE ACTUALLY A CAT, you should read this.
I would like to start this review by saying that if you don't think princesses can wear black, we cannot be friends.

Shannon Hale is one of my favorite authors ever so I was really excited to dive into this book. I wanted to see how this chapter book would compare to all the other novels I had read by Shannon.

In a very short summary, this book was cute, but it was also so great. I feel like this is what all the young kids these days should be reading. About a young princess, who is clearly badass and not afraid to fight the monsters.

My only complain would be that the young princess had to hide her badassery from all of her other princesses. At one point, I was so sure that one of them would become her sidekicks and when that didn't happen, I was a little sad. Never the less, Magnolia was an awesome princess and I hope we get to see another story that features her and her adventures.

This is such a fun chapter book and if you're probably not going to read it yourselves, it would always be a great book to gift to kids. ;)
I would like to start off by saying that I absolutely LOVE that this book is so diverse! There are so many people of color in this book and seeing that made me happy!

But also there was magic in this book so obviously it was going to be great. There was a dritten (a dragon/kitten), a kid who is a human balloon, a kid who can freeze things (as well as light them up), a kid who can turn into inanimate objects at will (except not really) and many other awesome kids. All of these kids have one thing in common, their magic is 'wonky'.

Nory is the star of this novel and we see her be rejected by her father because her magic is not normal and then sent away. Her asshole father (harsh words need to be used here) refuses to pick up her calls or even ring her up to see if she is okay. Instead he just ships her off to her aunt and assumes she will be okay. Nory has trouble adjusting though. She doesn't want to learn how to deal with her magic, she just wants to be normal. She doesn't want to be referred to as someone with wonky magic. After all, who doesn't want to fit in rather than stand out? But Nory learns to appreciate her amazing classmates and she even makes friends along the way.

This is an adorable little book about learning to appreciate yourself and those around you. It is a fantastic read and one that won't fail to charm you (*crosses fingers*). You should read it if you like books about kids who turn into drittens because their magic is wonky.
The no. 1 thing that caught my attention about this book was the author. When I was a kid, Louis Sachar was my hero for writingHoles. Holes is a book I have never forgotten so I knew that whatever Fuzzy Mud was about, it would be brilliant. And it was!

Fuzzy Mud is a beautiful book about friendship and finding the good in others. But it comes with a fun (but kind of creepy) sci fic twist which I also enjoyed.

I'd guess that this book is set in the near future where a new source of fuel is discovered that is renewable and environmentally friendly. The problem is that biolene is comprised of artificially engineered organisms that should die in the presence of oxygen but what happens when a mutation occurs? An epidemic. THAT'S WHAT.

So yes, there was some scary things happening in the book but I had so much fun reading about Tamaya, Chad and Marshall.They are all wonderful characters that give life to this book. I didn't think I'd like a bully but the way Sachar develops Chad is wonderful. Chad never apologizes for his actions (because how can he) but instead tells his new friends what drives him to be awful. Little by little they all become closer because of this epidemic and form a lasting bond.

This is a quick read that won't fail to charm you with its originality and with its fabulous relationships and characters.
4 Stars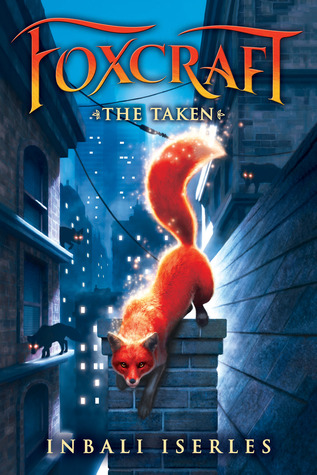 I have a very complicated relationship with this book. It's not that I hate this book or even think it's badly written. I think the characters and the plot are well developed. My problem is that this is a book told from the POV of a fox. A fox that is humanized but one readers are reminded is not in fact human. This was problematic for me because it made it harder for me to connect with the book and become invested in the story.

Isla is a young fox that gets separated from her family and then starts a quest to find her brother. She meets a somewhat fishy fox on the way that opens her eyes to the world around her. This book is a coming of age tale that features a fox and one I am sure won't fail to melt several hearts.

In the end though, I just couldn't be swayed over by the innocent charm of Isla and the richness of her world.