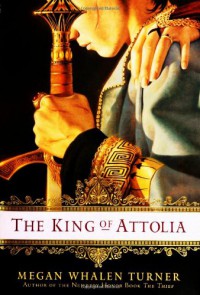 GAHHHH!!! I cannot believe it took me so long to read this!
Never the less. I am thankful that I did. I cannot say anything about this book I cannot. Well I can but I'll probably never be able to put my feelings into words. Although I can see this. Gen is one of the best things that ever happened to me. He is one of my all time favorite characters. I wish authors would write more characters like him. Why cannot all YA characters be super clever and mess with our minds.
I remember in the beginning everyone was like OMG he is such a bad king and stupid and what not. And I was secretly screaming in my mind. "Well you a******s you haven't seen the Gen we all know and when you figure out that he is secretly messing with you.. I want to be there to see the look on your faces".
Although unlike most people who have read the series the first book remains my favorite. It's because there wasn't romance in it. The romance bothers me. No it isn't a bad romance. It's actually good but I don't want to think of Gen as a romantic person. I like to think of him as the thief who will always outwit you and make you fall on your a**. You won't even know what happened well until he tells you what did. He is like an all in one packet. He is smart, clever, funny everything. It's why I love him so much. In the last book I had to cut a star because the romance really pissed me off. I mean he declares his love to the enemy. Most of the book had me hating Attolia and suddenly I am supposed to like her. I don't hate her in this book and have grown to like her but I hate the fact that everyone wants him to be a king and act like one. I DIDN'T want him to be one. I loved him as a thief. Although I have warmed up to the idea by the end of this one.
Also I've said so much about Gen but nothing about Costis. Hmm.. I don't know what to say. Although I really did like him even when he hated the king. At least he stood up for what he believed in. He didn't try to hide from his mistakes and he didn't want to beg for mercy. Also he didn't agree with the cruel jokes played on Gen despite the fact he disliked the king himself.
HA I said I couldn't think of anything to say. Well hey my mind as cleared up enough to offer some opinions.
I am excited for next book 'cause of SOPHOS. Although I hope we see more of the Magus as well.